Phoenix Specialty Coatings
WELCOME TO




PHOENIX SPECIALTY COATINGS




Where Your Parts Are Reborn
You have found the most distinctive,
highest quality custom powder coating and
metal restoration services available anywhere.
We're Custom One-Off Specialists!!!
Emphasis on Mopar Parts restorations and a leading industry pioneer in multi-color powder coating regardless of age or manufacturer.
Call today to discuss your details!
731.613.9192
10 a.m. – 9 p.m. Central time
That's right — we're NOT in Phoenix!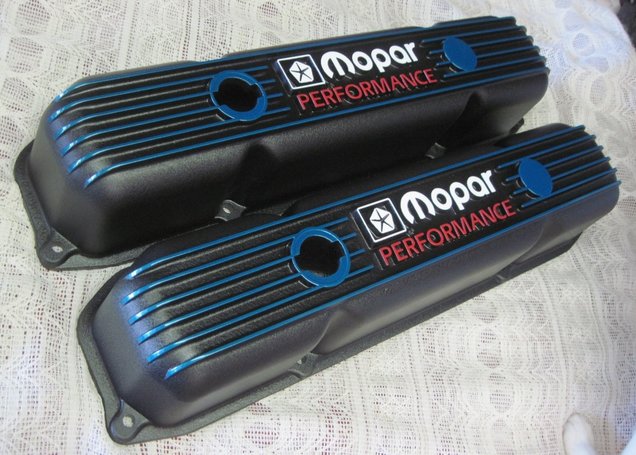 "Threw this crazy-ass idea at her for these valve covers, and she pulled it off even better than I expected!!! A six-color powder coat job!!Who the hell ever heard of anyone pulling that off!!?? and it is a spectacular job at that! Leanna is a wizard!!"
Mario J. Lombard, Illinois       
Perhaps your stuff is a few decades older? Don't worry, that's why we're here!
We love it as much as you do and want future generations to enjoy it too.
For a quick overview of the shop and PSC's qualifications, check out our popular
YouTube Introduction Movie!!!
You'll love it!
Great tunes and the best Custom Powder Porn you'll ever see!
Custom, intricate work is welcome!
You dream it up and PSC will help you turn it into reality
with professionalism and unmatched attention to detail.
Exceptional valve covers — new or old —
are one of our specialties .
Only PSC has the love, the patience and the experience
to do it right the first time at a price you can afford.
PSC-polished Willys emblems in Flag Red/clear
Need a quote?
Email Leanna ~ The Cuda Chick at
PhoenixSpecialtyCoatings@yahoo.com
Please include good close ups of dings / dents / damage / etc., and an overview of your desired color scheme to ensure
the most accurate estimate.
Surprisingly Reasonable Rates!!
Shop Hours By Appointment Only
Call
731-613-9192
10:00 a.m. – 9:00 p.m. Central time
Monday – Friday
or email us at
PhoenixSpecialtyCoatings@yahoo.com
Photos of YOUR parts will help ensure a more accurate quote!
Please include close ups of dings, dents, damage, etc.,
as well as an overview of your desired color scheme.
Unlike other shops who simply blast and powder your parts,
PSC devotes the time and effort necessary to get your
metal as close to perfect as possible first.

PSC has proudly supported Mopars in May at California School for the Deaf since 2010.
Have a show coming up? Call Leanna to discuss PSC Support!
Thanks for visiting!
We Appreciate Your Time and Value Your Business!
Don't forget to save PSC.com among your favorites!
We'll be happy to have you back again.
Check out the newest work samples on our
FaceBook Fan Page!!!
Look for the Friday Powder Porn Album